Crush Collision Celebrates 25 Years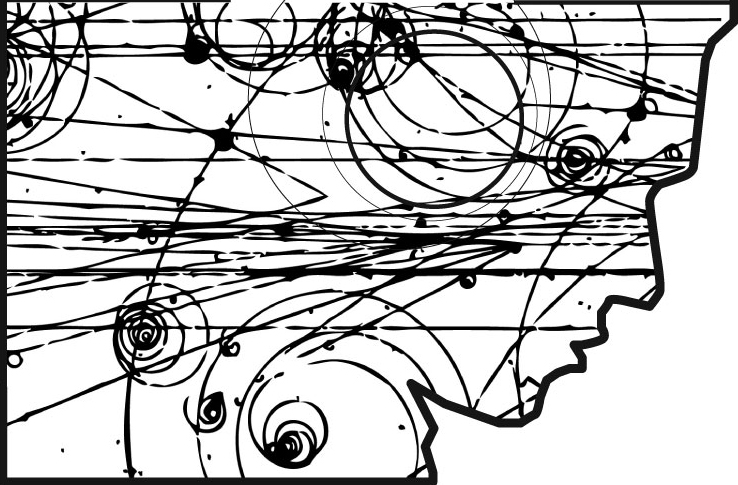 2012 marks the 25th Anniversary of the electronic dance music-based radio show Crush Collision.
Crush Collision is one of the longest-running electronic music radio broadcasts in the world, and is destined to one day hold the title. Crush Collision was founded in 1987 by Tom Simonian, who currently resides in San Francisco, and recently had his house's foundation reinforced to support the weight of his enormous record collection. Tom was a guest performer at Detroit's Music Institute and the resident DJ in the 1980's at the University of Michigan's U-Club, and continues to perform as Tom Thump.
The radio show Crush Collison was originally billed as "dance music," where one could hear new Chicago House, Detroit Techno, Hacienda hits, alternative 12" mixes of club music, industrial, and eventually acid jazz. Brendan Gillen (aka BMG) was the next to host the show, which he transformed into a voice for this new electronic music generation. The original music selection presented was industrial mixed with some techno; after a revelation following a trip to Buy Rite in December 1989, the show's format became "techno." Techno, house, electro et. al. were played as these genres grew and changed monthly. The show's format was initially not well-received at WCBN, where they did not yet understand the nascent genre and music revolution, burying the show on late late Saturday nights, then Friday night for one season. In the early mid 90s, Brendan was able to secure Crush Collision's current home, Thursday nights at 10 p.m. on WCBN, 88.3 FM.
Crush Collision originally aired from 10 p.m. until 1 a.m. The first hour of the show was called "Expansions." The goal of this hour was to share the inspirations of the techno music culture, and to give insight, when so much media, even important underground media, simply didn't understand: Techno / Electronic Dance Music journalism was still in its infancy. Songs were played in full, with an explanation of what they were. Originally ambient focused, the show evolved to focus on the history of the music, with guests of great stature within the culture speaking candidly about their vision, inspirations and asperations. A true education for the audience, and hopefully an inspiration for future generations. One such audience member was Sam Valenti IV, who came on the show as a guest during "Expansions" and later built the Ghostly label with other guests Matt Dear and Tadd Mullinix.
Crush Collision's focus was "the sound of the underground" mixed live by increasingly excellent DJs. Focusing on the art of the DJ and trying to give an open voice to the ever expanding sounds while attempting to document their evolution, Crush Collision attracted many special guests. The show functioned as a conduit to the scene, but also curating a sound and vision. Special guests of Crush Collision included Derrick May, Carl Craig, Rob Hood, Richie Hawtin, Dan Bell, Rick Wade, Mike Huckaby, Mike Banks, Theo Parrish, Shake, Claude Young, Basic Channel, Drexciya, Autechre, Mark Broom, I-f, Le Car, Adult., Patrick Pulsinger, Stacey Pullen, Rotator, Chuck Hampton (aka Gay Marvine), Recloose, Alvin Hill (aka DJ Munk), Eric Haupt, and Elephanthaus, among many others. Guests performed live mixes, often debuting unreleased material, and were interviewed over the air. Further voice was given to the scene with frequent speaking guests, who provided scene news, party and event announcements. Regulars included Adriel Thornton and Sam Fotias (now of Paxahau, who present the Movement festival in Detroit over Memorial Day Weekend). The lobby of the WCBN studios around airtime became a meeting place for the burgeoning regional techno scene.
At the end of the U-Club era BMG & Jeffrey Hayner got together, excited by the quickly changing music scene, sensing a musical revolution or evolution. They banded together resources (so they could have twice as many of those expensive import 12" singles) and formed the Mystic Masters of Time & Space, featuring BMG and Jeffrey Nothing (Hayner found his DJ moniker in David Lynch's "Blue Velvet"). Centered from Crush Collision, the Mystic Masters played house parties, the U-Club, and even the Detroit Rave debut of Underground Resistance (Jeff Mills, Mike Banks, Robert Hood) "Panic in Detroit 2" thrown by Made in Detroit in 1992.
BMG & Jeffrey Nothing hosted Crush Collision with Jeffrey Ø holding down the mix of the best and newest of records. BMG, in his constant search for new records, placed so many special orders at Record Time that he was invited to become the import buyer for their Dance Room, a post which he held through some of Techno and House's most formative years. By 1994, DJ Kalki (aka Jim Pyke) had replaced Jeff in the mix. The show took a dramatic evolution as Carlos Souffront moved to Ann Arbor and brought his experience and deep mixing skills to the air.
During this era of Crush Collision, DJ Hell (of the Bavarian-based International DJ Gigolo Record label) heard a promo mix CD that Paris the Black Fu and Billeebob had recorded when guesting on Crush Collision as Heckle & Jeckle, where Billeebob played crazy records and BMG interviewed Paris the Black Fu as a number of different personas, such as Nurse Hurse and Arnold Schwarzenegger. A bit of techno radio comedy, with BMG as the straight man, and Paris acting the fool. Inspired by this, DJ Hell decided to celebrate the 50th release on Gigolo with an episode of Crush Collision where Carlos Souffront did a continuous mix on 3 turn tables with the studio's cart machines for effects (the way Autechre had mastered when they visited), and BMG interviewed Paris as Arnold Schwarzenegger, where the joke was that this was 50 Years of Gigolo, and Arnold was kind of a sleazy whoremonger who used his power and muscles to intimidate people and enjoy a life of endless prostitutes. We had no idea until his post-Maria Shriver scandals why his lawyers were so upset when they heard the mix, but now we understand the jokes may have been true! The mix CD was put in the back of small a book and issued in 2001, only to be quickly pulled from sale due to Arnold's lawyers.
The sound of Crush Collision stayed consistent in the early 2000s, with a steady diet of DBX influenced sounds, Basic Channel / Maurizio / Rhythm & Sound / Main Street, all forms of Mike Ink / Wolfgang Voigt, Ron Trent / Chez Damier / Prescription, and Robert Hood among the month's latest music. When BMG moved on from the station in the early 2000s, he left the show in the skilled hands of Carlos Souffront, who had regular co-hosts in Pete Leidy and Todd Osborn.
See Also - Artist
Publication
Interdimensional Transmissions