Return to the Source (2020) — CANCELED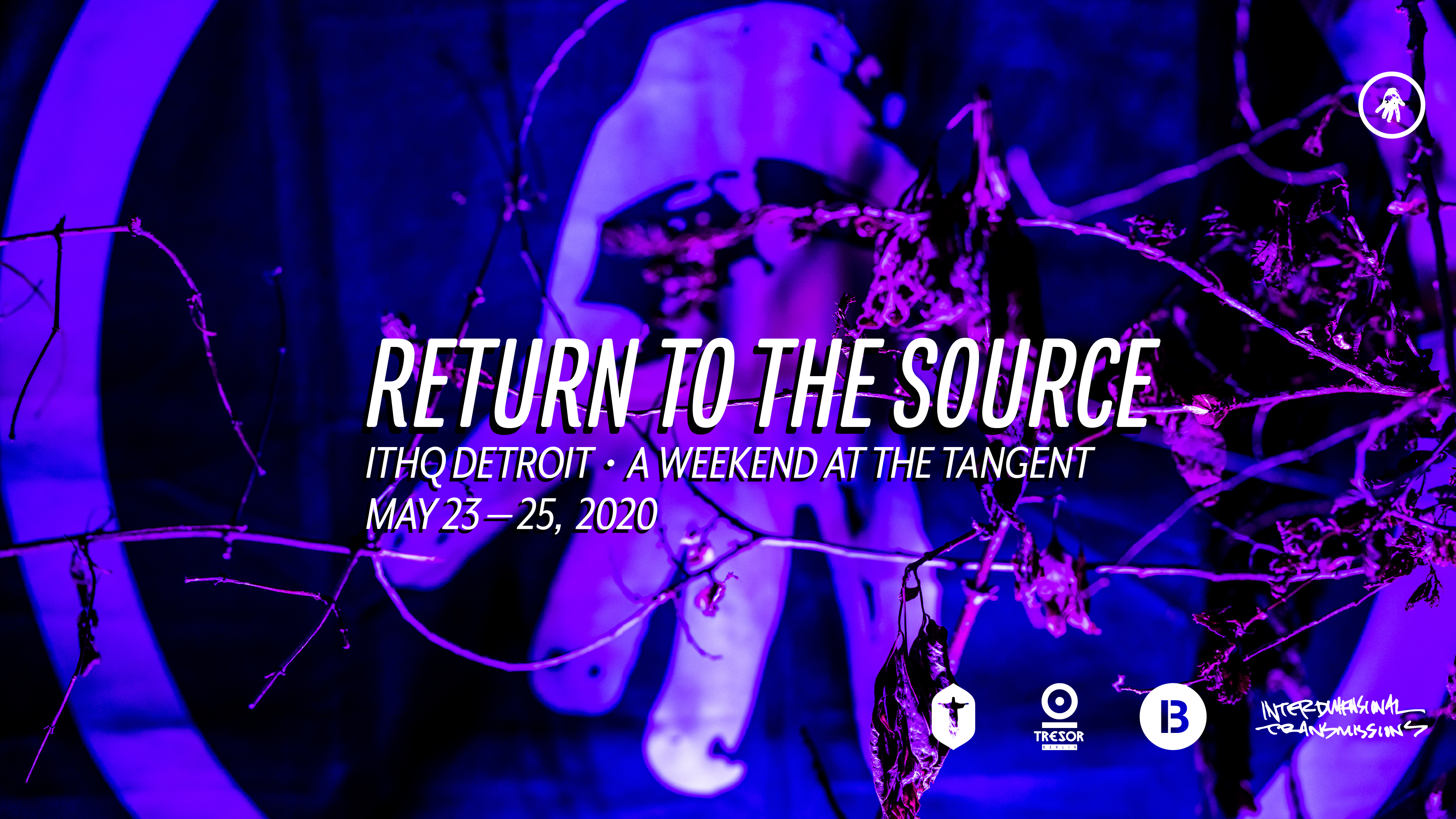 May 23
Return to the Source — Day 1
Tresor 313
10PM - 8AM
Special Guest to be revealed
Rrose (live)
Claude Young & Anthony 'Shake' Shakir
Daniel Bell (sunrise set)
Mozhgan
Erika & Antenes
Shawn Rudiman (live)
Amanda Mussi
Israel Vines
Rebecca Goldberg
Drexciyan Art Gallery by Abdul Haqq
May 24
Return to the Source — Day 2
No Way Back
11PM - Noon
Patrick Russell
Mike Servito
Derek Plaslaiko
BMG
Eris Drew
Erika
Bryan Kasenic
Scott Zacharias
Antenes (live)
Organic Dial (live) aka Outer Space
Christina Chatfield (live)
Farplane aka sold & Hi-Vis
Grant Aaron
May 25
Return to the Source — Day 3
Lot Mass
Noon - 10PM
Violet 
Zenker Brothers (house set)
Whodat
Tony Fairchild
May 25
Return to the Source — Day 3
I.T. presents The Bunker
10PM - 6AM
Rrose x BMG
Forest Drive West x Patrick Russell
Mozhgan x Carlos Souffront
Abby Echiverri (live)
Mike Servito x Justin Cudmore
ADAB x FANA
Bill Spencer x Isabella DiBlassio
What began in 2007 as a party that extended beyond boundaries has found a home in the Tangent Gallery, blossoming into its own kind of festival. There's the Tresor 313 party on Saturday Night ending with a sunrise set from Daniel Bell, and once No Way Back starts on Sunday, the music will continue for 31 solid hours, with Lot Mass directly following No Way Back outside on Monday at noon and The Bunker party on Monday night ending well after dawn on Tuesday. With all these events, the Tangent will become its own special destination for Memorial Day weekend. We all need a place to call our own, and for this weekend the venue of that vision is the Tangent. This is Return to the Source 2020.
We're celebrating with a specially priced weekend pass for all Return to the Source events. This wristband allows:
– Admission to Tresor 313, No Way Back, Lot Mass and The Bunker
– Re-entry to these 4 events at any time
– Priority entry & re-entry lane
This pass will allow you to experience the 31 hour party with no interruptions.
We're continuing to expand our improved infrastructure, including working with veteran festival organizer and logistics expert Kate Lesta. We've improved the flow of the party with a totally rethought entry and exit, expanded outside area that includes a harm reduction tent, food trucks, and a greater outdoor sound system.
To further celebrate No Way Back's 13th year, we show the influences of these parties on the labels Interdimensional Transmissions and Eye Teeth in a perfect feedback loop. We're releasing an EP from No Way Back resident Eris Drew called "Fluids of Emotion" on Valentines Day. IT's techno sublabel Eye Teeth relaunches this spring with a triptych of records from Israel Vines, beginning with a powerful 12" from KGIV (Kit Geary & Israel Vines), a future perfect debut album from Mr. Vines, and an associated remix 12" that includes mixes from CUB (Regis & Simon Shreeve), Ectomorph, Further Reductions and Ken Meier.
The Acid Series records, in their special sleeve based on the transformation art of No Way Back, other new records, and new shirts will be available in the merch booth during all Return to the Source nighttime events (the booth closes at 6am during NWB and reopens for The Bunker).